Industry News
Rohm Showcased Planer LED Lighting Panel at CEATEC JAPAN 2012
Rohm Co Ltd has showcased a planer LED lighting panel featuring LED packages with a high color rendering index as high as 98 at CEATEC JAPAN 2012 held from Oct 2 to 6, 2012.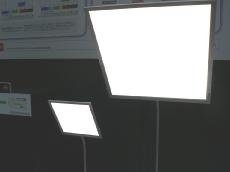 High color rendering index
According to the firm, the panel was made by arranging LED packages on a plane surface and covering them with a light diffusion plate. It emits light from the entire surface of the panel like an OLED lighting panel.

By using its fluorescent material technologies, Rohm realized a general color rendering index (Ra) as high as 98 and prevented the sulfuration of lead frame, which lowers color rendering index.

In general, silver plating of an LED package's lead frame, on which an LED chip is mounted, is reacted with hydrogen sulfide contained in the air coming through the package material and blackened, gradually lowering color rendering index. The LED package developed by Rohm has a white resin layer that reflects light between the package material and lead frame to prevent the sulfuration.

Special LED Lighting Panel Superior to OLED Lamps
Rohm also realized a high heat resistance and a product life of 50,000 hours (the time it takes for the light flux to lower by 30%) at a temperature of 110°C. For the lighting panel, the company employed a special LED. And the panel is superior to OLED lighting apparatuses in terms of cost and luminous efficiency. The luminous efficiency of the panel was not disclosed.

Though Rohm has not yet decided when to commercialize the panel, it said that the technologies necessary to realize the panel have almost been completed and that the company will discuss the commercialization with Agled Co Ltd, its subsidiary.